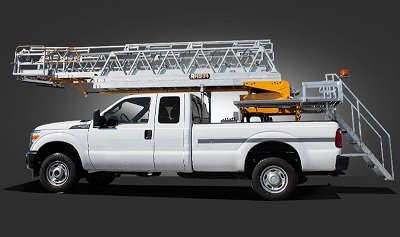 RH Equipments (Robert Hydraulique) has been designing and manufacturing insulated and non-insulated hydraulic aerial ladders for more than 30 years. In this field of specialized equipment, the innovative design, reliability, and efficiency of our products give our company a solid reputation.
We are particularly proud of our new range of hydraulic aerial ladders (baskets), which can reach working heights from 14 to 65 feet (4 to 20 m). That is why our products are used in the most diverse fields of application:
telecommunications
cable distribution
public works
government projects
installation/maintenance of electricity networks
design/installation of signs
maintenance of buildings and ski resorts
window cleaning
etc.
For the RH team, our leitmotif can be summarized as follows: "Develop a product specific to the needs of the market and create high-tech concepts that fully respect the highest demands of our users."
Let's take a closer look at some of the advantages of our products:
Optimized payload thanks to our high-quality materials;
Water cutting, so no loss of material features = maximized durability (30 years);
Ladders designed in 3 sections (in most of our models), for a more solid and comfortable experience for the user;
Large ergonomic basket for user comfort ("toe kick");
Several models of insulated baskets in any position;
No pedestal in the cargo space, which allows 95% usage (deck structure);
Installation possible on a small one-ton truck, for access to tight spaces;
Several configurations available, insulated and non-insulated (ground access, on the roof, platform and bridge);
No stabilizer leg needed, which allows a smaller footprint without blocking circulation;
Conformity with the body builder guide of each dealer, which ensures conformity with their warranty;
Auxiliary battery with AGM deep-charge, which allows cutting off the vehicle's ignition;
Powder paint, more durable and more environmentally friendly;
Color customization of the ladder according to your company's colors;
Built in Quebec, Canada.
This is part of what explains the growing success of RH Equipments. There are many additional elements that guarantee that purchasing our products will keep you a step ahead of the competition, as your operations will definitely become more efficient. Contact our sales team to learn more.