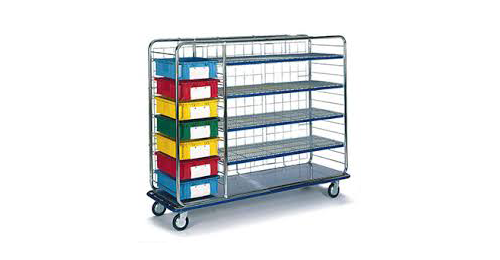 Find the supply storage solution you've been searching for with Adapta Plus metal wire shelving.
When Richard Bureau, president of Cart Supreme, purchased in 2009 the adaptable shelving system created by Cari-All, he wanted to solve storage problems at facilities in the health care industry, so he introduced the Adapta Plus system, one of the most durable on the market.

While the system is also effective in commercial or industrial applications, Adapta Plus shelves are ideal for the medical industry. They are made of metal wire, so this storage system is solid, durable and easy to maintain. It can also be disinfected, which is often a requirement in medical facilities.

The Adapta Plus system is made entirely in our Canadian factory. Key features :

● doesn't trap dust
● allows air circulation and light distribution
● provides good visibility enabling better inventory control
● allows addition of another shelf to maximize vertical storage space
● offers variable load capacities depending on the shelving chosen
● is earthquake-resistant.

The maximum shelf height is 96 inches and various widths are available: 12, 15, 18, 21 and 24 inches. One benefit is that additional shelves can be added and adjusted in one-inch increments using metal fasteners for metal-to-metal grip that is much stronger than plastic fasteners.

In addition to laundry carts and other solutions for hospitals, our high-end Adapta Plus shelving system is resistant to seismic tremors according to the NSF International standard. So you can fill your shelves without worrying about the safety of your users or staff.

Many health facilities already rely on our storage solutions, including Hôpital Pierre-Le Gardeur inTerrebonne.

Contact us today. We'll be happy to help you find the solution to your storage problems—finally!