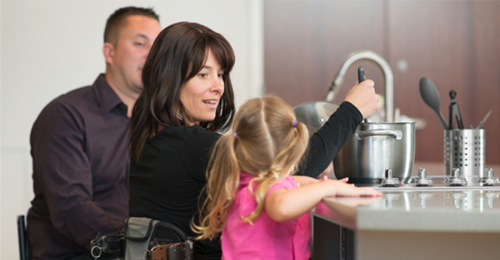 Appropriate durable medical equipment and home modifications empower wheelchair users to live safe, independent lives in their own homes. After an injury or illness, durable medical equipment bridges the gap between ability and the task at hand.
Tips and tricks from Motion Composites
By Olivia Tefera, PT, DPT
Home modifications often play a pivotal role in whether a patient can discharge home versus to another facility. Let's review the solutions available in today's market that allow wheelchair users to live life on their own terms.
According to the Reeves' foundation, 12.3% of paralyzed Americans do not have the equipment needed to live independent lives in their own homes and communities (Cahill). Just as a cane can help someone walk alone, a transfer board can help someone move in and out of a wheelchair alone. Durable medical equipment used by wheelchair users include reachers, patient lifts, and rolling shower chairs. The modern mobility marketplace offers a variety of solutions for every age, size, and need.
A study exploring the cause of falls in wheelchair users found the home entrance to be one of four significant risk factors (Nelson, et al., 2010). Thankfully, this risk can be addressed along with other modifications to ensure an accessible and practical home that promotes safety, independence, and quality of life. Home modifications range from a simple weekend project to an extensive project involving a contractor. These modifications can include ramps, ceiling lifts, and floating sinks.
Take a mental tour of your home as you read through the following home accessibility solutions.
STEPS

If you have a porch at the front of your home or steps at any of your emergency exits, consider a ramp with a 1:12 ratio, 1" rise over 12" run. Ramps can be made from aluminum or wood. Alternatively, porch lifts provide a platform that raises and lowers the user without taking up a great deal of space. Internal staircases can be overcome with the installation of a stair lift or elevator.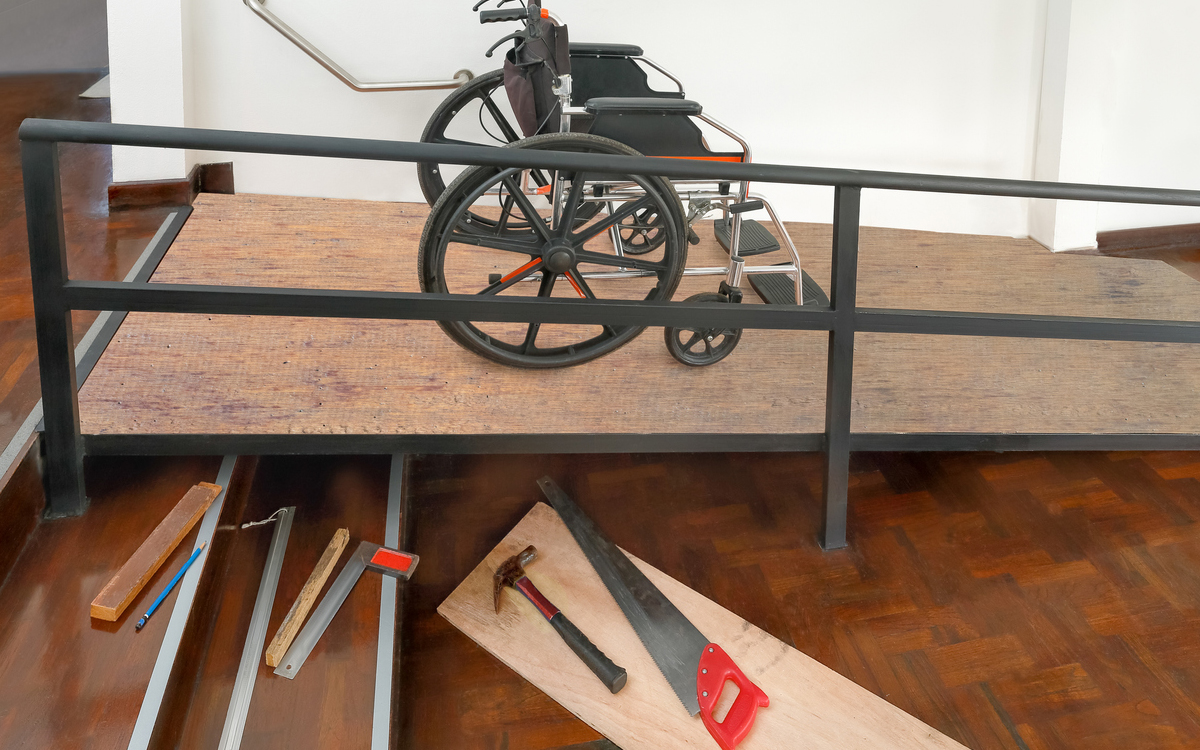 DOORWAYS

Overall chair width is a concern for many wheelchair users as they must consider the width or the doorways in the home and community. The cheapest way to widen a doorway in the home includes installing an expandable (swing away) hinge that frees up 2" of space. If that is not enough space, consider hiring a contractor to carve out a wider doorway. If the actual door is taking up valuable space for maneuvering, install a pocket door or sliding barn door.
KITCHEN

A great deal of independence can be gained or lost in the kitchen. Angled mirrors over stove tops seen in cooking classes can help wheelchair users improve visibility and safety during cooking. Merely doing the dishes can become possible by removing base cabinetry under the sink. Low tech options for reachable storage include relocating items to lower cabinets, using reachers, and incorporating lazy susans. If space allows, have a table height workstation for food prep.
BATHROOMS

Bathrooms are some of the most dangerous places for wheelchair users due to lack of space and wet surfaces. If financial restrictions are not present, a full bathroom remodel can provide a roll in shower, rolling shower chair, wide open spaces for transfers and maneuverability, and even a ceiling lift system. On a smaller budget, cabinets under a sink can be removed and replaced with a floating sink or pedestal. Even smaller scale changes to improve access to a shower or tub include sliding tub benches, sliding shower chairs, hand rails, and handheld shower heads. Toilet access can be improved with a raised toilet seat, rolling commode chair, or bed side commode. A rolling commode/shower chair, such as the JAZ-SP from Raz Designs, not only parks over a toilet but it minimizes the number of transfers needed to accomplish toileting and bathing.
TRANSFERS THROUGHOUT THE HOME

In the comfort of a user's home, transfer styles can be tailored to the space and need with the use of equipment. A wheelchair user with extensive financial resources may opt to install a ceiling lift system from the bed to bed side, into the bathroom, over the toilet, and into the shower. Some ceiling track systems offer diverging paths to different destinations. One particular ceiling and portable patient lift manufacturer, Surehands, offers quick and easy transfers without the use of a sling. Portable ceiling lifts are available for rental homes or structures that cannot accommodate a ceiling lift system. These typically only provide a short and simple point A to point B path, such as bed to bedside. At the end of the day, the tried and true hydraulic or electric patient lift, such as the Hoyer Lift, is what is typically seen in facilities and homes. Low tech options for wheelchair users that are able to transfer themselves include paraladders for floor recovery and transfer boards.
ELECTRONICS

With the incorporation of cell phones, Bluetooth technology, and wi-fi in accessibility efforts, many people living with disabilities feel safer and more autonomous than ever before. Environmental control units, ECUs, can be used to control head elevation of a bed, lights, fan, tv, door locks, and emergency phone calls from bed. Phone applications and virtual assistants like Siri and Alexa allow wheelchair users to simplify and command the world around them. Power locking doors may allow home care aids to enter the home for scheduled appointments or emergencies. With any technology, it is imperative that users research safety and security features in the event of a malicious threat or natural disaster. What is the default setting if the power goes out ?
Do not let home modifications or DME be the limiting factor when you or a loved one is discharging home from the hospital. Reach out to physical and occupational therapists, assistive technology professionals, DME dealers, home modification contractors, foundations, support groups, and online resources to stay informed of the latest options. Attend local or regional patient centered DME expos, such as Abilities Expo, to try out the latest solutions for improving accessibility in the home. If the need is temporary, seek out an equipment re-use program in your area. Before acquiring any equipment or beginning work on your home, always make sure your choices are appropriate for your skill level and abilities. Consult a clinician to minimize risk of injury or wasted resources.
Sources

Cahill, A. (n.d.). Access to Dme Policy Brief. Christopher & Dana Reeve Foundation Paralysis Resource Center. Retrieved from http://s3.amazonaws.com/reeve-assets-production/RFAccesstoDMEBrief.pdf

Faulkner, B. (2017, September 11). Making Your Home Wheelchair Accessible. Retrieved March 10, 2020, from https://avacaremedical.com/blog/making-home-wheelchair-accessible.html
Mercer, K. (2019, April 1). 10 Ways to Make a Handicap Accessible Home. Retrieved March 10, 2020, from https://101mobility.com/blog/10-ways-to-make-a-handicap-accessible-home/
Nelson, A. L., Groer, S., Palacios, P., Mitchell, D., Sabharwal, S., Kirby, R. L., … Powell-Cope, G. (2010). Wheelchair-Related Falls in Veterans With Spinal Cord Injury Residing in the Community: A Prospective Cohort Study. Archives of Physical Medicine and Rehabilitation, 91(8), 1166–1173. doi: 10.1016/j.apmr.2010.05.008

Rubel, E. (2019). Explore Accessible Solutions for your Home. Retrieved from https://www.abilities.com/community/home-modifications.html