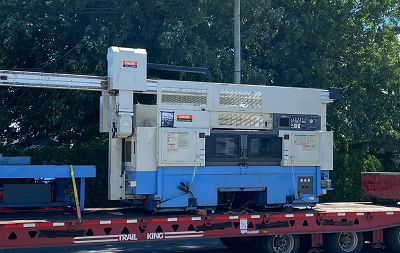 Despite an economic slowdown caused by the COVID-19 pandemic, APF Villeneuve is very optimistic about its future and continues to invest in new equipment.
Indeed, the machine shop has just increased its assets by acquiring a new machine: Mazak Multiplex 6300Y. It stands out from the 20 other machines at APF Villeneuve; it will allow the production of larger and heavier parts. The range of parts that APF can produce has just been considerably expanded. Without a doubt, this machine will give APF access to new markets and open many doors!
Good news! Even before its installation was finalized, several new contracts were confirmed with a new customer in the United States. "Immediately installed and in production! In the long term, there's no doubt that this new machine will make the company profitable," says Érick Villeneuve, President of APF Villeneuve.
Not only will this machine make it possible to manufacture new parts, but it will also make APF Villeneuve more automated than before. In other words, through greater automation, the company will be more efficient, more effective and its delivery times will be shortened. This will enable it to be much more competitive in every respect!
To submit a project, contact David Gaudet: david@apfvilleneuve.ca