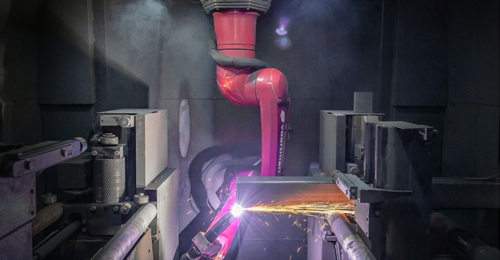 SUMMA METAL is proud to announce that it is the first Canadian company to have acquired a Voortman V807 robot to cut metal parts and perform various other tasks.
We have been planning this significant investment for a long time, in collaboration with the BDC and Canada Economic Development (CED). In fact, the recent expansion of our plant was partly due to this new machine's installation.
IMPROVED PERFORMANCE
More precisely, the Voortman V807 can carry out plasma and oxyfuel cutting much faster than all the other robotic profile processing machines on the market! The V807's success is the result of years of experience, research and development with the aim of significantly reducing its footprint and improving its already superior capabilities and performance.
Cuts, bolt holes, slots, notches, bevels, weld preparations and layout markings… the V807 can process it all in a single pass and can reach all four sides of the material with unrivalled speed and positioning accuracy!
This will ultimately result in more finished parts in an average production day compared to other robotic steel profile cutting machines. It is important to note, however, that all jobs at Summa will be maintained and we will launch a training program to enable our employees to get the most out of this production automation.
INCREASED PROFITABILITY
Reducing subcontracting and increasing productivity, the V807 offers a faster return on investment, enabling us to save money by not purchasing separate solutions for drilling, milling, sawing, punching, shearing and marking. All the processes can now easily be combined in a single operation. In addition, the V807's revolutionary rotation axis ensures maximum accessibility and versatility to minimize manual intervention, with just one operator!

The new modular design means that installation will take only a few days and the Summa Metal team will soon be able to use this new robot to offer you an even wider range of services and faster delivery times—helping you successfully complete every step of your project!