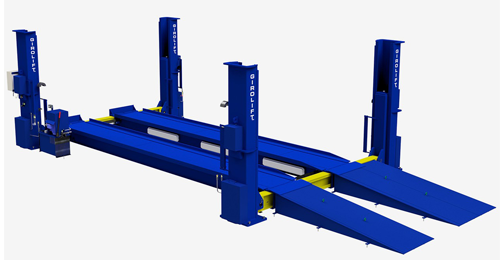 Canada Hydraulic Equipment Inc., is a recognized leader in heavy vehicle lifting equipment, the Girolift brand has a well-established reputation in the mining industry in Quebec, Africa and South America.
Canada Hydraulic Equipment manufactures lifts for mining companies such as Agnico Eagle, I Am Gold, Niobec, Stornoway and Ludin Gold. The demand for Girolift products is increasing every year, mainly due to the positive references given by mining companies.
Always 100% hydraulic, with no cables, chains or pulleys, custom-built Girolift lifts meet the strictest requirements. The manufacturer offers personalized lifting equipment designed and manufactured to fulfill every customer's individual needs.
Consulting services and turnkey offer
After taking note of the makes and model numbers used by the mine, Canada Hydraulic Equipment's consulting service prepares a high-quality and detailed offer covering the mine's needs.
The offer meets the lifting capacity needed along with the necessary measurements and options that go hand in hand with the equipment. Such options include, in particular, lighting and adjustable ramps for different vehicle type and sizes. Last, but not least, are two important factors in the lift's choice, we always consider: safety and certification.
Once everything is verified, 3D drawings are provided to the customer. The drawings include the details for measurements and spaces required to prepare the work bay that will receive the lift and vehicles.
The Girolift 4-post ramp lifts are well-suited for the mining industry, with capacity range from 80,000 to 140,000 pounds.
They were designed in collaboration with major international mining companies to lift heavy and extra-heavy vehicles. Canada Hydraulic Equipment and its customers selected the best components, from steel to certified hydraulic power units with electronic controls. Girolift products have proven themselves to be not only the most effective but also the toughest, for general work and also the mining environment.
Free access to consulting services is offered by qualified Girolift hydraulic lifting system specialists directly from the manufacturer, Canada Hydraulic Equipment.