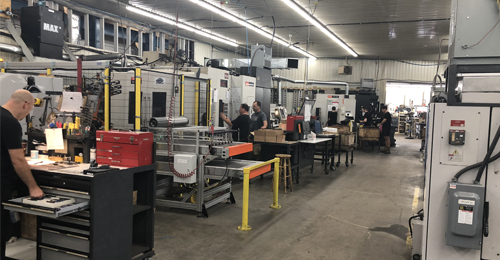 The late Jacques Villeneuve founded Atelier d'usinage APF Villeneuve Inc. in 1989. As an outstanding machinist, his vision was to provide quality machining services to companies in our area.
We have expanded our operations over the years and we now have customers in other Canadian provinces and the USA.
Following the untimely death of the company's founder, his brother Érick is now in charge. Since Érick Villeneuve was already working at the company, he was able to incorporate the factors that made APF Villeneuve a success in its plan to become a factory of the future! He therefore steered the company towards new markets, particularly by moving from the manufacture of prototypes to the high-volume mass production of high-precision machined parts, but without neglecting the production of less complex parts.
This expansion took place in several phases, taking the company rapidly from a few employees to over thirty, all of them highly skilled.
"Innovation at all levels is at the heart of our philosophy. Whether it's adopting new technologies or improving our working methods, we never lose sight of our goal: increasing productivity while reducing pressure on our workers. The wellbeing of our employees is really important to us."
- Érick Villeneuve, CEO of APF Villeneuve
We combine the technologies of the future such as robotization and process automation with the expertise and commitment of our staff. For 30 years now, this has allowed us to tackle the most complex challenges in order to provide our customers with products that are ready to use and meet their needs. We are proud to be open for production 24 hours a day, 7 days a week, to meet delivery deadlines for rush orders.
We offer our customers an unparalleled service in the form of a partnership at every stage of their projects, and at very competitive prices. That's why we work with your existing plans and specifications, while working closely with you on the development of your industrial metalwork products and, therefore, your company's growth.
Contact us and we'll be happy to discuss with you the best ways to make your projects a reality !